Home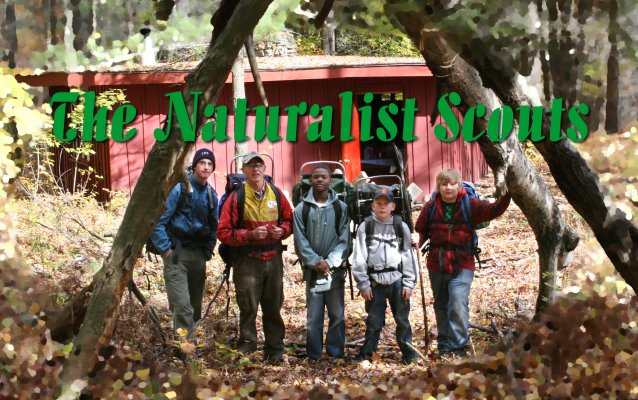 UPCOMING NATURALIST SCOUT EVENTS FOR 2020-2021
The picture above was taken at the Naturalist Scout Camp near Cadillac, Michigan. The cabin and our two tree houses were built by the guys in the group.

In autumn we enjoy doing some weekend backpacking trips, since the insects are gone and the temperatures are cooler. We especially enjoy hiking on the Jordan River Trail in N.W. Michigan, and the Hocking Hills Trail in S.E. Ohio. Sometimes we do one last bicycle trip.

We celebrate winter on our annual winter snow trip, December 27-30th. We head for our camp near Cadillac, Michigan, where there is normally plenty of snow. Most of the guys love to ski and snowboard. We often head for Boyne or Caberfae, which are excellent ski resorts located near our camp. So everyone can experience winter, we have everyone camp out in a tent at least one night. During January and February, we always do a lot more skiing and snowboarding. Winter meetings are held at Oak Openings Metropark, where there is a 4 mile cross country ski trail. Winter is a good time to get bikes ready for spring. We help each scout rebuild a road bike, and when it is finished, he gets to keep the bike free of charge. Other winter projects include building bird boxes and printing tree identification signs, which we put up in 4 parks.

As winter is drawing to a close, we head back to our camp near Cadillac, Michigan, to make maple syrup. Sugar maples are abundant at our camp, and March is the best time to make syrup. After boiling down the syrup for many hours, we celebrate spring with an all you can eat pancake breakfast.

During spring, the meetings are devoted to projects that help the environment. Our group is part of the Ohio Adopt-A-Highway Program. We pick up & recycle litter on State Route 64, on the south and west sides of Oak Openings Metropark. We always hold an annual Earth Day litter clean up at Independence Dam State Park near Defiance. Here we pick up litter and use canoes to clean up the Miami & Erie Canal by cutting trees that have fallen into the canal during winter. At spring meetings we put up new bird and bat boxes, and replace tree identification signs at 4 state parks: Harrison Lake, Mary Jane Thurston, Independence Dam, and Goll Woods State Nature Preserve.

Our spring camping trips feature backpacking and biking. Over spring vacation we do an annual spring hike on the Appalachian Trail. We began this project by hiking the first 45 miles of the trail from Amicalola Falls State Park to Neel's Gap in 2012. In 2013, 2014, and 2015 we returned to the Appalachian Trail to hike as much as we could. We currently have in 150 miles, and we are finished with Georgia, and have entered North Carolina. In 2016 we reached Great Smoky Mountain National Park. In spring we also have short overnight bike rides to get ready for longer rides in summer.

During the month of May, we have our most important fund raising event of the year, The Maumee Valley Tri-Adventure Race, which is Saturday May 15, 2021. The race is held at Independence Dam State Park, 4 miles east of Defiance, Ohio. In this race participants first bike 36 miles on paved back roads. The second leg is 6 miles of canoeing/kayaking on the Maumee River. The last leg is backpacking 8 miles with 20% of your weight. Awards are given to the best male and female teams in each class. People may also do the race solo, or part of a relay team. Most people in good shape require 5-6 hours to do the race, but a few have done it in less than 5 hours. You can pick up a yellow brochure at most bike shops, health clubs, and YMCA's. You can also download a brochure by going to maumeetriadventurerace.net

Every summer, the group plans a special summer trip to offer a challenge to the older members. This trip is always low cost and voluntary. Four examples are:
A week of canoeing in the Minnesota Boundary Waters.
Backpacking in Colorado's Rocky Mountain National Park.
A week of canoeing in Ontario's Algonquin Park.
Hiking in Acadia National Park & climbing Mt. Katahdin at the northern terminus of the Appalachian Trail in Maine.
These trips sound expensive, but the guys only have to pay for their food, which they and their parents buy, and pack before the trip. This way the parents are in control of how much the food costs. We don't charge anything for transportation.

You will note that one important thread runs through everything. Our trips are all challenging. We backpack with heavy packs, and bike and canoe with all of our gear. We don't use vans to carry our gear everywhere we go. Our work meetings are normally 4 hours long. We work and camp year around in all kinds of weather. The Naturalist Scouts is not for wimps. Since the group began in 1966, we have camped in 38 states, and biked in 25. If you want to join a group that will give you real challenges call 419-654-3138 for more information. We are happy to provide parents with a list of former members and parents for reference.
---
Back in 1847, Henry Dave Thoreau watched red and black ants fight all afternoon, killing each other by the thousands. Thoreau asked an interesting question:
Are people who fight wars any different or smarter than ants that do the same thing?

---
The Naturalist Scouts is a great way for boys 11-15 to find adventure, challenge, and to have some real fun. The Naturalist Scouts is a Venture Crew (3799) under the Boy Scouts. A Venture Crew is different from a Boy Scout Troop in many ways. Venture members design their own uniforms, so they fit the kinds of activities most often done. In the Naturalist Scouts, we do a lot of biking, so we wear brightly colored T-shirts for better visibility. Venture Crew members are not required to work on merit badges, but if they want to become eagle scouts, that option is open to them. Naturalist Scouts are never asked to go out and sell things. We raise funds with our annual Tri-Adventure Race. The Naturalist Scouts is also open to adult men who wish to volunteer.
The Naturalist Scouts is directed by Larry Lindsay who is a certified science teacher and naturalist. Mr. Lindsay is assisted by Robert Ziarno and Steve Henn. If you have questions feel free to email Mr. Lindsay at: info@naturalistscouts.org
Don't forget to view the links above, they have more information about the group and trips.