Home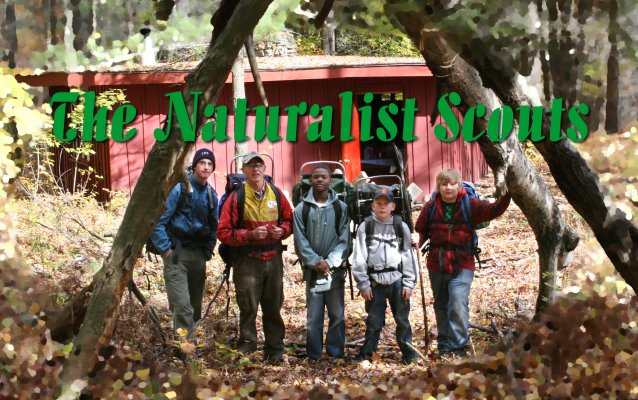 UPCOMING NATURALIST SCOUT EVENTS FOR LATE 2013 & 2014
The picture above was taken at the Naturalist Scout Camp near Cadillac, Michigan. The cabin and our two tree houses were built by the guys in the group.

This autumn we plan to visit our camp twice. The first trip in September trip, we will paddle down the nearby Pine River in canoes and kayaks. We will also cut some firewood for winter and do some repair work on our tree houses. On the October trip, the group will hike on the Jordon River Trail, which is also nearby. The Jordon River trail follows the river downstream for 8 miles, where there is a nice campsite. At the mid—point the trail crosses the river and heads upstream for 8 miles. A nice highlight is a scenic vista from a high ridge top. In autumn the vista of autumn leaves is amazing.

In November we plan to head down to Kentucky to do some rock climbing and repelling. We will be going to the Torrent Falls Climbing Area. You can look for more details on the internet.

We celebrate winter on our annual winter snow trip, December 27-30th. We head for our camp near Cadillac, Michigan, where there is normally plenty of snow. Most of the guys love to snowboard and ski. We often head for Boyne or Caberfae, which are near our camp. So everyone can experience winter, we have everyone camp out in a tent at least one night. During January and February, we always do a lot more skiing and snowboarding. At winter meetings we repair bikes to ready them for spring & summer.

As winter is drawing to a close, we head back to our camp near Cadillac, Michigan to make maple syrup. Sugar maples are abundant at our camp, and March is the best time of the year to make syrup. After boiling down the syrup for many hours, we celebrate spring with an all you can eat pancake breakfast.

During spring, the meetings are devoted to projects that help the environment. Our group is part of the Ohio Adopt-A-Highway Program. We pick up litter on State Route 64, on the south edge of Oak Openings. Our major spring Earth Day litter clean up will be at Independence Dam State Park near Defiance. Here we will be cleaning up the old canal from canoes. In spring we also repair and replace bluebird and bat houses.

Our spring camping trips feature backpacking and biking. Over spring vacation we do and annual spring hike on the Appalachain Trail. We began this project by hinking the first 45 miles of the train from Springer Mountain to Neel's Gap in 2012. In 2013 we returned to Georgia, but we were only able to hike 21 miles from Neel's Gap to Georgia State Route 75. In 2014 we are hoping to finish the Appalachian Trail in Georgia and do a few miles of the trail in North Carolina. In spring we also have short overnight bike rides to get in condition for longer rides in summer.

During the month of May, we have our most important fund raising event of the year, which is the Maumee Valley Tri-Adventure Race, which is Saturday May 17, 2013. It is held at Independence Dam State Park near Defiance, Ohio. In this race participants first bike 36 miles on paved back roads. The second leg is 6 miles of canoeing or kayaking on the Maumee River. The last leg is backpacking 8 miles with 20% of your weight. Awards are given to the best male and female teams in each class. People may also do the race solo, or part of a relay team. Most people in good shape require 5-6 hours to do the race, but a few have done it in less than 5 hours.

Every summer, the group plans a special summer trip to offer a challenge to the older members of the group. This trip is always free and voluntary. The super rip for 2013 was a backpacking trip in Rocky Mountain National Park. The super trip for 2012 was a week- long canoe trip in the Boundary Waters of northern Minnesota. The super trip for 2011 was a bike trip from Toledo to Maine (1038 mi.). These trips sound very expensive but the guys only have to pay for their food, which they and their parents buy and pack before the trip. This way the parents are in control of how much the food costs.

You will note that one important thread runs through everything. Our trips are all challenging. We backpack with heavy packs, and bike and canoe with all of our gear. We don't use vans to carry our gear everywhere we go. Our work meetings are normally 4 hours long. We work and camp year around in kinds of weather. The Naturalist Scouts is not for wimps. Since the group began in 1966, We have camped in 38 states, and biked in 25. If you want to join a group that will give you real challenges call 419-826-5182 or 419-389-7080 for more information. We are happy to provide parents with a list of former members and parents for reference
---
Back in 1847, Henry Dave Thoreau watched red and black ants fight all afternoon, killing each other by the thousands. Thoreau asked an interesting question:
Are people who fight wars any different or smarter than ants that do the same thing?

---
The Naturalist Scouts is a great way for boys 11-17 to find adventure in the Northwest Ohio/Southeast Michigan (Greater Toledo) Area. The Naturalist Scouts is a Venture Crew (3799) under the Boy Scouts. A Venture Crew is different from a Boy Scout Troop in many ways. Venture members design the own uniforms, so they fit the kinds of activities most often done. In the Naturalist Scouts, we do a lot of biking, so we wear brightly colored T-shirts for better visibility. Venture Crew members are not required to work on merit badges, but if they want to become eagle scouts, that option is open to them. Naturalist Scouts are never asked to go out and sell things. We raise funds with out annual Tri-Adventure Race.
The Naturalist Scouts is also open to adult men older than 21, and relatives of members who wish to serve as assistant leaders.
The Naturalist Scouts is directed by Larry Lindsay who is a certified teacher and naturalist. Mr. Lindsay is assisted by Steve Henn. We will be happy to provide parents with references for these people.
Please call one of the numbers listed above or email larryllindsay [at] centurylink.net
Don't forget to view the links above, they have more information about the group and trips.