Spring
One of our spring trips is making maple syrup at our camp in Michigan. We collect the maple sap, boil it down over an open fire, and finish up with an all you can eat pancake breakfast. Parents enjoy coming too.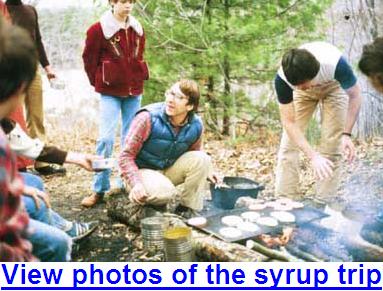 (JavaScript must be enabled)
Summer
In the summer, bike and canoe camping is great. We carry all of our gear, and camp as we travel. Nearby Michigan has many great backroads for biking, however, we have biked in parts of Canada and most northern states. There are many clean and fast running rivers in Michigan ideal for canoeing.
Fall
The cool days of autumn are ideal for backpacking. You carry all the food and supplies you need on your back and hit the trail. Close places like Hocking Hills State Park are great for weekend backpacking, but we have gone hiking several times in places such as Colorado, Wyoming, and the Great Smoky Mountains.
Winter
Yes, we even camp in the winter! We not only camp, we also enjoy winter snow sports. We often travel to our camp in Cadilac Michigan, which is in Michigan's snow belt where we go sledding on a sled that we made ourselves!

<<Back

Naturalist Scout activities are normally held on weekends during the school year. Most meetings are held on Saturday afternoons from 1:30-5:00 p.m. The meetings begin with a 15-minute naturalist lead walk to learn more about plants and wildlife, and a 15-minute video on camping skills or wildlife. After this, we divide into smaller groups to work on both outdoor and indoor projects. Outdoor projects include research projects, roadside litter pick up, and trail work in the Toledo Metroparks. Trail work includes clearing fallen trees from trails, repairing signs, repairing bridges, and clearing brush from meadows. Indoor projects include building bird and bat houses, and other woodworking and leather projects.
There is usually a camping trip once a month. The camping trips feature backpacking, biking, canoeing, or skiing. In summer, camping trips are held more than once a month. Field trips to places like the Cleveland Zoo, The Ontario Science Center, or to places where we can study wildlife; such as, Goll Woods or Crane Creek State Park are held once every 2-3 months.

<<Back
It is very important for our members to become good woodsmen who value and respect the land. A good woodsmen knows which plants are edible and which ones are poisonous. He knows which trees are good for starting a campfire. He shows respect for the land by camping without leaving a damaged environment. We believe in camping without leaving a trace and taking only pictures.

<<Back